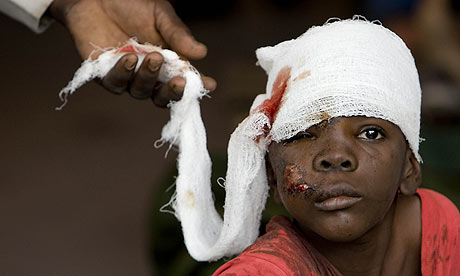 Like many of you, I've been wondering how best to help the Haiti earthquake victims. The following list (thanks Bro!) makes it easy…
Disaster relief organizations are mobilizing to aid Haiti – and are asking for help. Funds are needed to provide enough safe water, temporary shelter and vital medical supplies.
UNICEF and Save the Children already have emergency teams in Haiti, and the Red Cross has released $200,000 in disaster funds.
You can donate to these groups:
– Text Yele. Wyclef Jean is urging donors to text 'Yele' to 501501 and make a $5 contribution to the relief effort over cell phone. Click here to get more information via Wyclef's foundation page.
– Text HAITI. For those interesting in helping immediately, simply text "HAITI" to "90999" and a donation of $10 will be given automatically to the Red Cross to help with relief efforts, charged to your cell phone bill.
– Save the Children. Donate at savethechildren.org or make checks out to "Save the Children" and mail to: Save the Children Income Processing Department, 54 Wilton Road, Westport, Conn. 06880
– UNICEF. Go online to unicefusa.org/haitiquake or call (800) 4UNICEF.
– Red Cross. Go online to redcross.org and click Donate, or call (800) REDCROSS.
– Direct Relief International. Donate online at directrelief.org.
– Mercy Corp. Go online to mercycorps.org or mail checks to Haiti Earthquake Fund, Dept. NR, PO Box 2669, Portland, Ore. 97208 or call (888) 256-1900
To find information about friends and family in Haiti: The U.S. State Department set up a toll-free number to call for information about family members in Haiti: 1-888-407-4747.
The department said some callers may receive a recording because of heavy volume of calls.
The State Department has also set up links on its Web site to facilitate donations to disaster relief agencies.
**For a list of other charities active in Haiti or for additional information, please visit http://www.msnbc.msn.com/id/34835478/ns/world_news-haiti_earthquake/